ABOUT US
Welcome to PyroPlayers!
PyroPlayers Magazine, oftentimes abbreviated to "PPM", is a cooperative publication made up of a small collective of twenty-somethings keen on intersecting their love of pop culture and games with their love for journalism. PPM, as started in 1992, was designed to be a bimonthly mag that examined its topics critically and without any conflicts of interest. Our focus is on video games, but over time we've also written on other realms of entertainment within the creative arts. We plan to keep the mag going as long as we can!

PyroPlayers Net Edition began as a side project to transfer our print articles to an all-digital website for easier access, a broader audience, and to archive our previous work in a timeless fashion. The World Wide Web, of which we're thrilled to be a part of, is growing each and every day, and as a pure democratic medium we figured we'd jump in on the fun. Our website also lets us communicate directly with you, the readers! Over at our Contact Us page, we have set up a message board to leave us notes and commentary at your leisure.
---
The Website Interface
We have plenty to see here at PyroPlayers.Neocities.Org. Our website is made to be easily accessible to all ages with lots to see and discover. The Home Page is the central hub of PPM Net Edition. From there, we update regularly when new articles are published and when the site format is updated. Various clickable links are provided on that front page, but for navigation purposes PPM programmers have also designed a Side Bar and a Player Site Map. The Side Bar, listed on the left side of every page, provides easy-to-use bookmarks to lead you to any page you're interested in finding with a simple click. The Player Site Map, at the bottom of each webpage, lays out categories for our game reviews and supplies some additional info.

Our hope is each webpage is simple to read and understand for all sorts of monitor types and sizes, though we highly recommend readers use a standard desktop PC for optimal viewing. PPM Net Edition programmers are always available for questions, comments, and concerns regarding the site itself as well as any suggestions or troubles you may encounter with it. Feel free to reach out via our Contact Us page, or send electronic mail. We no longer use CompuServe.
---
PPM Crew & The Office
PyroPlayers has a small staff, but each contributes immeasurably to the work that goes into the magazine. John Quince is our publisher. His work is mostly comprised of pleading over the phone with truck stops and newsstands to keep PPM on store shelves... Oh, and he assists with funding the project too. Jet Odyssey is editor-in-chief of PyroPlayers. He typically puts the thoughts and findings of others to print, edits the sloppy submissions of other crewmembers, and keeps his sunglasses on to catch some Zzzs when John's out of the office. Our researchers and investigators, Dave and Nick, can usually be found surfing the web or leaving crumbs on their phones whilst chatting with game devs and setting up meetings. Finally, Jason and Kim, our programmers, keep the site up and running and never, ever make any mistakes.
---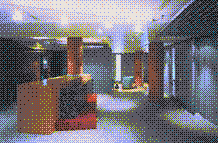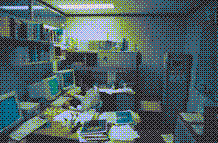 Our Modern Lobby Mr. Odyssey Himself (Yeah, right) The Editing Corner
---
Check Out the Side Bar or Player Sitemap Below for Links to Various Features and Reviews!
Thanks For Hanging Out! We Appreciate Your Support! :^)