Cover Article
Saturn Is Out There
Upon the surprise launch of the Sega Saturn, announced at E3 Conference, our review team promptly snagged a console and spent all month playing it non-stop! We take a look at Sega's newest pinnacle of games design, the launch titles, and whether their decisionmaking behind the early release was a smart idea in the long run.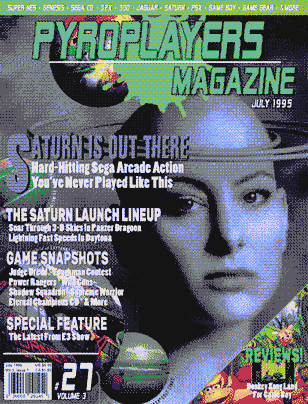 Issue Spotlight & Features
Next Wave Report
The launch of the Sega Saturn represents the next stage in the console wars. With Sega's 32-Bitter now available in the U.S., how will Sony and Nintendo respond? Our team explores the near-future of games and Sony's hype machine ahead of September.
The Review Station
We present detailed reviews for Donkey Kong Land on Game Boy and Fatal Fury Special for Sega-CD. (Print Only)
Adventurer's Guild: Episode 9
Returning to the realm of fantasy has brought forth two new titles for us to delve right into.






Clockwork Knight (SATURN)
Daytona USA (SATURN)
Virtua Fighter (SATURN)
Wild Guns (SNES)
MMPR: The Movie (SNES)
Judge Dredd (SNES)
Toughman Contest (GEN)
ExoSquad (GEN)
Judge Dredd (GEN)
Eternal Champions CD (SEGA-CD)
Shadow Squadron (32X)
Supreme Warrior (32X)