---
Spotlight:
Summer '94 Consumer Electronics Show
---

For three exhilarating days at the Summer Consumer Electronics Show in Chicago, tech industry titans from all over the globe met to flaunt and market their latest wonders to retailers and press folks alike. It may seem intimidating to gaze upon the electronics of tomorrow, but boy is it worth it. Sitting beside interactive TVs and the "Meet Hulk Hogan" booth, most visitors will easily spot the gigantic Nintendo pavilion. That's right, the World of Nintendo dome has returned. Nintendo shot out a more aggressive strategy this time around, made all the more obvious with their hyper edgy "Play It Loud" tagline. What managed to steal the show, without a doubt, was the announcement of Donkey Kong Country, a fully rendered DK platformer with some of the greatest graphics we've yet seen on any console. It's a bit mind-blowing really, how Nintendo manages to throw these super punches regardless of its hardware disadvantage. Bit Wars, who?

The Nintendo area was garnished with a plethora of jungle-theming to build the atmosphere for the new DK, including a motorized treehouse-cabin and swirling condors flying overhead. With a $10 Million marketing campaign behind it, we're sure you'll be seeing lots of DKC as its (shockingly soon) November launch inches closer. Gorillas aside, Nintendo blared plenty more in terms of SNES goodness. A sea of Super NES stations showed off demos for upcoming titles like Illusion of Gaia, Tetris 2, and Uniracers. A smaller section of the pavilion was dedicated to Game Boy news, heralded by a huge, rotating Super Game Boy device. The portable is set to receive its own Tetris sequel and an all-new DK adventure called Donkey Kong Land. We'll admit, though, most of our time was spent learning the ropes of DKC, not GB.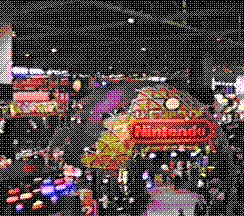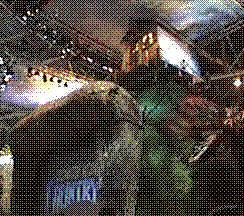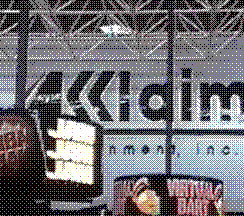 The Nintendo Dome Returns Welcome to the Jungle! Your Mortal Kombat Home

Sega's presence was far smaller by comparison, supported mainly by third party offerings, such as Electronic Arts and assorted others. Sega did unveil a humorous promotional video narrated by R&B vocalist Lou Rawls to showcase some of the upcoming Sega 32-X launch games, including a not-insignificant port of Doom and Star Wars Arcade. An all-new Sonic title featuring Knuckles was also hinted at. No Saturn to be found, rumors be damned! 3DO likewise exhibited a subdued, erm, exhibit. Road Rash looks supreme-o as ever, and the realistic fighter Way of the Warrior is, according to its devs, the most graphically-advanced fighting game yet. The Atari booth pulled back the curtain on the Jaguar CD, but only unplugged and behind a thick sheet of glass. Atari boasts the CD add-on's storage capacity and cinepak technology for better color and sound. Imagine full movies on Jag CD-ROM!

Third party offerings were splendid with a handful of misses here and there. Acclaim set up a sprawling pavilion front-and-center, pounding music so loud your ears can fall off! Their centerpieces, the already released NBA Jam and the previously announced MK2 did leave a bit to be desired for such a hot studio. Capcom, Ocean, Disney, & Accolade were all present with few surprises in tow. Konami managed to dive in full-throttle with announcements for Contra: Hard Corps an action-packed Genesis-exclusive Contra title, and Batman: The Animated Series, a brawler with Aladdin-esque hand-drawn sprites and fluid animation. Needless to say, though the other studios put up a fair fight for the unabashed winner of CES, we'd be remiss to not easily hand it to Nintendo this year. Be sure to check out the PPM Preview Corner real soon for a closer look at some of these titles, plus our largest screenshot-fest yet!





[Article from the August 1994 Issue of PPM]