---
Spotlight:
Next Wave Report: '95 Sneak Peek
---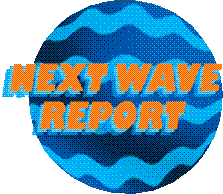 With the official launch of the Sega 32X on November 21st, Sega has embarked into untreaded territory in the gaming space. The 32X, now available in stores, is said to double the power of the Genesis from 16 to 32-Bits. The add-on is here - so how accurate were these claims and, more importantly, is the $159.99 price-tag worth it? To start, the 32X does not include a pack-in game, only a small booklet of $10-off coupons. In other words, the true starting price is about $200 once factoring in cart cost. Bummer! Installing this sucker is a chore and a half, too. Wires, connectors, spacers, RF shielding plates... blech! But, how about that bit-count? Well, although its dual 32-bit RISC processors do not technically meet the requirements of a 32-Biter and undoubtedly fails to reach the heights of 3DO, the device cannot be denied its due. The leap to improved graphical fidelity is stark thanks to the power of the Hitachi SH2 chip.

A somewhat underwhelming total of three games launched alongside the expansion unit in North America, giving us the impression that this was rushed out the door. Doom, Star Wars Arcade, and Virtua Racing Deluxe inaugurate the pack. A fourth title, Cosmic Carnage emerged from the Sega dungeons in December. For our full thoughts on this rather limited selection of 32X games, see our Reviews and Snapshots sections. Pertaining to Sega's roadmap for the 32X and its supposed commitment to developing for the console, rumor has it an exclusive Sonic entry is on the way. Sonic Chaotic is the working title. Plans are in the works for a standalone Genesis-32X combination called Neptune, with more news expected this summer.

Back to whether the investment toward 32X tech is merited, that decision ultimately comes down to the player. A huge library is already at the disposal of Genesis and Sega-CD owners, and Sega will surely continue to pump out classics. Our recommendation is to hold off on purchasing this bad boy. Our reasoning is simple, and it involves a certain planet.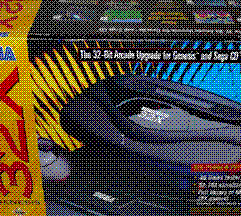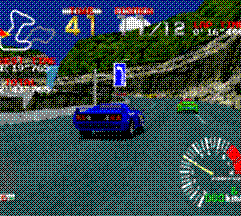 The Sega 32X Ridge Racer on PSX

Our biggest gripe with this "stopgap" strategy is news of the inevitable arrival of Sega Saturn to U.S. shores. Sega's true next-generation console has taken off in Japan. Retailing at 44,800 Yen, or $465, the Saturn frankly blows away the 32X in all regards. Virtua Fighter is the hottest of the bunch. It is stylized exactly as its arcade counterpart, plays at a lightning-fast frame-rat, and displays a 224-640 resolution. The other choices, a first-person FMV game called WanChai Connection, a Mahjong disc, and a puzzle title, all appear a bit less ambitious. Tons more are in the works, from 3-D racer Daytona to the Macintosh adventurer Myst. Presale data indicates a thunderous start for the planetary machine, potentially beating forecasted figures. The excitement was only matched by startling news concerning the PlayStation. That's right, it's head-to-head!

Coming in slightly cheaper at 39,800 Yen, or $410, and with a greater array of games available, a new face to the world of games is exhibiting some serious competition in the dawn of this new era. Sony's 32-Bit console is performing just as well in stores according to presale data. Judging by Sony's pedigree as a multimedia producer, players will have reason to trust in the quality of the PlayStation. Eight games are available as of the system's release in Japan, including Namco's excellent Ridge Racer, and Tecnosoft's killer brawler, Hot Blooded Family. Dozens more will be ready by January. As for us Americans eager to see the PSX and Saturn in action, we must learn the virtues of patience and hold steady for the time being.

More information, especially relating to launch titles and pricing, may be uncovered at January CES!





[Article from the January 1995 Issue of PPM]