---
Spotlight:
E3 1995: Breaking Announcements
---

The Electronic Entertainment Expo not only met the hype but surpassed it. Dissatisfied with poor treatment at the annual Summer CES show, the biggest names in games collectively packed up and swapped venues to the Los Angeles convention center for an all-new event focused exclusively on the videogames biz. This was the largest such show ever, eclipsing any seen CES. All the major players arrived to show off, cement deals, and scope out the competition. From May 11th to 13th, the red carpets rolled out for a trade show with more anticipation than the glitziest Oscars. There is so much to report on, in fact, that we had to split our coverage into two issues. Having won the courtesy of expedited publishing time, we were able to jam this special article into the June issue right at the buzzer, though extensive previews will not hit until July.

Seeking to set the standard for gaming through the remainder of '95 and into '96, over 350 companies showcased 1,300+ games for various consoles and PCs. Word has it over 40,000 folks attended, thus making this the largest ever show held in the L.A. center. Impressive considering this was not open to the public! Thousands of talented programmers, developers, and artists - not to mention marketing professionals - all had the same goal. Captivation. Knowing the biggest hype circled around the new generation of consoles, the games press stampeded to catch the latest news. Nintendo, Sega, and Sony each held populated press conferences early on. Here's our rundown of those events, as well as similar shows from Atari and 3DO.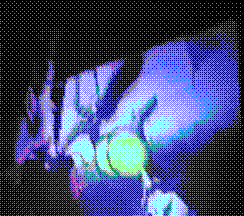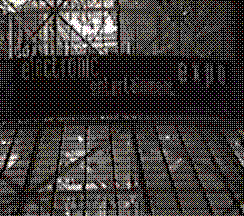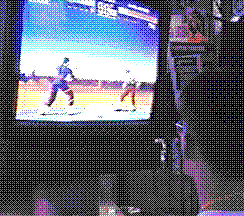 Saturn Commercial Welcome to the E3! Virtua Fighter Display

On a bright, California morning, just as the expo got started, Sega was quick to take the initiative. CEO Tom Kalinske gleefully took the stage to usher in the Sega Press Conference. Regarding Saturn, he exclaimed to a flabbergasted crowd that, "We started our roll out yesterday." Indeed, though news may have trickled in early about this hushed arrival, game stores including Toys R Us and Software Etc. began stacking Saturn boxes for immediate sale. By defying its own September launch, Sega fired a blazing strike (A Panzer Dragoon blitzkrieg, if you will) into the new era of videogame war. 30,000 units have shipped to stores, and per Sega, 600,000 units are expected to be sold by Christmas. No news yet regarding the tucked-away Sega Neptune, but we were reassured that the Genesis would thrive well into the next year.

Sony, the ubiquitous electronics giant, began its own keynote presentation with a marketing reel to remind attendees of its prior successes - namely the Walkman and hand-held Handycam camcorder. Perhaps remembering the need to discuss video games, Sony Computer Entertainment (SCE) CEO Olaf Olafsson took the stage and proceeded to declare a definitive September 9th U.S. launch date for the PlayStation, along with the promise of a range of titles for gamers to choose from. The real uppercut to Sega took place when Steve Race, SCE President, stepped up to slyly announce a $299 price tag for the PS, generating a sea of applause. Just like that, Sony fired right back at its competition. The only drawback is news that the PlayStation will sell without a bundled game, but with about 160 developers, players will have no shortage of options.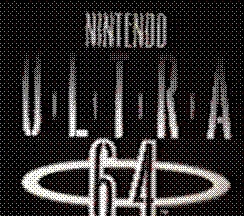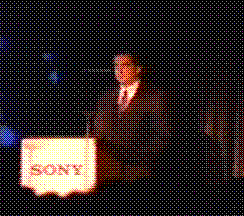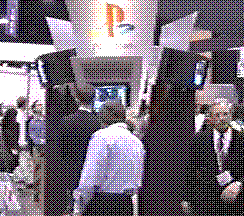 No Ultra 64 in Sight! "Two Ninety-Nine" PlayStation-Ville

Many players are eagerly awaiting the launch of Nintendo's successor to the Super Nintendo: The Ultra 64. However, while Sega and Sony are ready and willing to jump head-first into the next phase of videogames, the Big N is in no rush. Their flagship system did not appear at E3. Nintendo of American President Howard Lincoln confirmed suspicions that the hardware would be delayed until April 1996. He exclaimed the system was ready, but third-party developers needed more time. Not until November's Shoshinkai Trade Show in Japan will the U-64 make its official appearance. Rest assured, they are sticking with the $250 price point. Instead of broadcasting their latest and greatest, Mr. Lincoln focused on the "exciting" Virtual Boy technology and profusely warned about the pitfalls of piracy. Expect more VB coverage upon its launch later this summer.

Trip Hawkins of the 3DO Company, despite the looming dual threats of Saturn and PlayStation, stayed as optimistic as ever for the future of the 3DO. While the base system outshines 16-Bit by a long mile, there is an all-new device planned to compete with the incoming market. To a crammed conference of publishers and journalists, Hawkins and Co. unveiled the full story. The M2 is their answer: An add-on peripheral that will attach to existing 3DO systems. M2 will have enhanced graphical and rendering capabilities, as well as a souped-up processor with speeds up to 10x the 32-Bit systems. Their M2 Accelerator will process 1 million polygons per second, boosting 3DO architecture to 64-Bit levels. Additionally, players will have access to their existing library plus a whole new slate of next-gen games. Per 3DO Senior VP Bob Lindsey, "We have provided an upgrade path." No news on a release date, pricing fixture, or array of launch titles yet.

In the realm of Atari, the grandfather of all game companies is proving resilient regardless of market realities. Intent on boosting the power of the Jaguar by any means necessary, Atari is confident that their Jaguar CD is the trick. This new compact disc peripheral will plug-in to the top of the console and allow, in theory, a new library of games on disc. The internal hardware is a step-up from the known power of the Jag, but whether it is much more than a Sega-CD for '95 is unknown. Jaguar CD will come packaged with one game disc, as well as the Virtual Light Machine graphics program when playing music CDs. Atari also revealed their Virtuality VR system: A head-mounted display designed as a low-cost entry point to the world of virtual reality. It will go to market for around $200 this holiday season. Can these bells and whistles save the fledgling Jaguar? Piling on the peripherals for a system in such dire need of titles as the Jag is a risky venture, but we shall see.





[Article from the June 1995 Issue of PPM]