---
Spotlight:
Las Vegas Consumer Electronics Show
---

We recently flew back from the Las Vegas Consumer Electronics Show and our arms are way tired! (*Rimshot* -Jet) A bit sunburned too. (*Double Rimshot* -Jet) Beneath the glitz and glamor of the spiraling tech sphere in this shiny Vegas beacon in the desert sands, our PPM Crew searched for any and all morsels of gaming goodness. Between the giant marquees, flashing lights, and enormous moving statues of MTV's gnarly Beavis and Butt-head duo, we fought to avoid all distractions. We're here to do some work, after all! Luckily, it didn't take long to find the stars of the show, and needless to say we discovered a whole bushel of big game news. Our impressions of the show, minus complaints about busy crowds and our sore feet, are right here!

SEGA dominated CES. A pre-recorded SEGA videotape explained in-detail the much-hyped Saturn and exhibited work-in-progress screens for a select few CD games planned for launch. Among these were an arcade-perfect Daytona, Virtua Racing and Virtua Fighters. SEGA is also on-the-record touting their Sega Video Processor, or SVP, which will allow developers to to create more advanced graphics for the Genesis without resorting to expensive chips like the Super-FX. A port of Virtua Fighter may be in the works with some such technology still under-the-hood. SEGA has also fully embraced their new ratings system and has led the effort to standardize ratings across gaming platforms. Every last Genesis and Game Gear game shown displayed a rating front-and-center.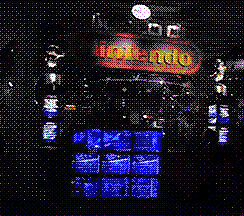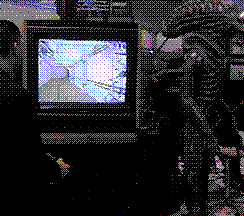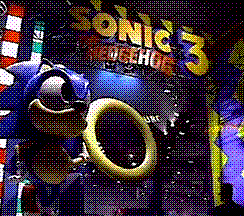 The "World of Nintendo" Aliens VS. Predator on Jaguar Huge Sonic 3 Entrance

Nintendo showed up with some goodies of their own even if they lacked SEGA's type of futuristic flare. We asked for news on Project Reality, but SGI President Jim Clark kept his lips sealed on the key details. We did receive confirmation that the system will use "state-of-the-art" graphics and utilize paks with over 100 MB of digital memory. Otherwise, we scoped out the games shown-off for SNES. Super Metroid, PPM's Game of the Show, looked spectacular and accumulated huge lines of drooling fans. Speaking of our heroine in orange, the visual effects in Super Metroid and are must-see. The same is true for the three dimensional Stunt Race FX. Both carts seem to be pushing the graphical limitations of the SNES to its limits, that's for sure. With Project Reality locked in a developmental stage, the SNES continues to be a safe purchase.

SNES ports of Knights of the Round and King of Dragons are on the way! Capcom is, as always, hell-bent on delivering SF2 to every system under the sun. Versions are now available for SNES and Genesis, but the Big C is after more! We've learned that a new SF game inspired by the upcoming theatrical film is planned for 3DO and the Sony PS-X. Little else to be said on the 3DO front (aside from Sanyo's apparent hesitation to release their 3DO model as promised), but Trip Hawkins assured PPM that more game news is on the way for early adopters - and dodged questions pertaining to disappointing holiday sales figures. That all said, a brand-new 3DO fighter called Way of the Warrior looked neat enough. See the PPM Preview Corner for more hot intel on the latest game announcements and early demo screenshots!





[Article from the March 1994 Issue of PPM]