---
Spotlight:
Summer Consumer Electronics Show
---

Your PPM Crew traveled up to CES in Chicago to take a sneak peek at the latest and greatest games coming your way this holiday season. It was a wonderful privilege to catch a glimpse at some awesome titles now in development, as well at meet with industry aficionados and sit-in for some stirring press conferences. As was the case during the winter show in Las Vegas, PPM representatives did have a booth set up ready to hand out free mags and speak with the fans face-to-face! Seeing as this event was open to the public at-large, plenty of local games players in the Chi-Town area had the chance to feel truly "in the know" along with us. Grab a slice of deep-dish pizza and head over to the show next year!

As one may expect, Sega and Nintendo brought out the big guns. Each company is motorin' to be the hot seller come Christmas (their spokesmen predict record sales), so this was a major opportunity to show off the goods. The Big N blew us away last time with a laser show to showcase Star Fox. Now, their featured games are Super Mario: All Stars, a collection of NES Mario titled suped up in full 16-bit glory, and FX Trax, a polygonal racer. Nintendo also made sure to add costumed "Goomba" dudes to their arena sized CES space to help advertise their Mario film. Sega displayed the beautiful-looking Sonic CD, as well as a home port of the much-acclaimed Virtua Racing for Genesis and a prototype for their Virtual Reality shades due out sometime next year.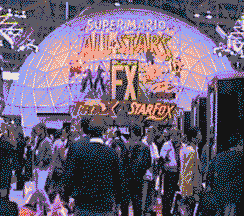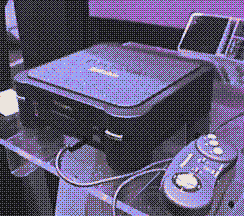 The Super Mario Dome 3DO Console & Gamepad

While the big boys of video gaming sprinkled some eye candy our way and third party developers like Capcom previewed Street Fighter II Turbo and Super Mega Man, much of the press was glued to one event in particular: The 3DO Conference. We've been anxiously awaiting further news of the Trip Hawkins project, and at CES we were graciously offered some substance. Three manufacturing companies so far have signed on to build the multimedia consoles. Sanyo is now on-board. Over 300 licensees have reportedly signed up to develop software for the 32-Bit 3DO, with Crystal Dynamics' Crash 'N Burn and Total Eclipse shining above the rest as gorgeous examples of the 3DO's potential. A Panasonic version of the device is scheduled to launch in October at a pricetag around $700.

CES allowed us the chance to test out some of these killer lookin' carts and discs long before they hit store shelves, meaning it may be a few months before we can secure a true review copy. Do not fret, however! We have previews in the works for much of what we got our hands on. The next generation of games, and the whole of 1994, is promising. Despite increasing development costs and layoffs at companies like MicroProse and Sierra, industry giants anticipate astounding growth this holiday season and into the new year.





[Article from the July/Aug 1993 Issue of PPM]