---
Spotlight:
Games on Prime Time
---

As we laid out for you in our highlight of the event, CES gave us the chance to try out some of the coolest games and gadgets with our own hands. Sega was especially fascinating at this venue, presenting for us audience members all sorts of killer tech in development. They showed off a neat virtual reality headset, a kind of bulky headgear with head tracking abilities and stereophonic sound, and the all-new 6-Button controllers for the Genesis (finally!!). But what caught our attention was something that Sega was not able to keep on display in a box or dazzle us with a personal demonstration. In fact, this new tech was announced back in April, but now we have enough info to give it its own feature article.

The service is called "Sega Channel," and it may just blow your mind. You know how whenever you're itching to play a new cart, you need to drag yourself to the local Babbages or Toys R' Us to buy the physical box, then wait to pull up in your driveway before - at last - slamming that sucker into your console? Well, the folks over at Sega in association with Time Warner and TCI have developed an entirely new method to play your games without even needing to leave the comfort of your living room couch. Through Sega Channel, you will soon be able to order a catalogue's worth games on demand and play them at a moment's notice - as if watching Pay Per View.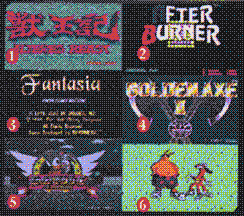 Rendition of the Sega Channel Screen

Once the tech is finalized and sent out to ship, Sega Channel subscribers will be sent a decoder peripheral to plug into your Sega Genesis. Then, by attaching an everyday coaxial cable to the tuner, a brand-new screen will blink on that will list a huge selection of games, demos, previews, news, and much more to beam directly onto the TV. The player will have access to the content on a 24-hour basis and will be able to play continuously until the console is turned off. Sega will reportedly be using its Channel to test out its titles as well, meaning subscribers will likely end up receiving sneak peeks at the newest games long before they hit store shelves. Imagine your friends' faces when you say you've already played Sonic 3!

Now this isn't an advertisement. We are just as cautiously optimistic as you may be, reader. Will Sega Channel truly deliver on its promise and open the doors for gaming on demand or will this project fizzle out like so many overly-ambitious ideas in the past. Well, according to Time Warner, the data service is in its final stages of development and is expected to begin early next year. OK, but what about the cost? One of the big drawbacks is the rather steep pricing: $10-$15 per month for what may initially be a limited menu. The other drawback is this will only work for cartridge games (Sorry, Sega CD owners). Nevertheless, should the service get up and running Sega will have yet another 1-Up on its rival, Nintendo.





[Article from the July/Aug 1993 Issue of PPM]