Cover Article
NBA Jam
NBA Jam, an arcade title converted masterfully to SNES, Genesis, and Game Gear, officially launches in March 1994. Though not flawless, Jam proves the best competitive sports game available on the super systems by a long shot.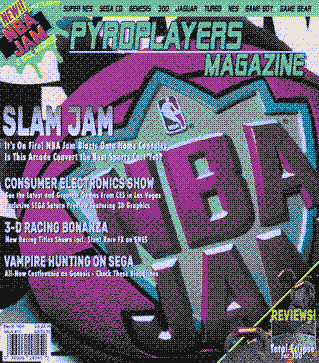 Issue Spotlight & Features
Las Vegas CES
The PPM Crew travels to the Far West to explore the endless corridors of the Consumer Electronics Show, bringing with them a slew of video game previews.
Adventurer's Guild: Episode 2
An in-depth look at two RPGs: One a Japan-only treasure, the other a love-it/hate-it gem .
Accessory Explorer
The mag takes a peek at some new accessories and peripherals for current-generation systems, including cheat tools such as Game Genie and Game Mage.






Alfred Chicken (SNES)
Wolfenstein 3D (SNES)
Equinox (SNES)
High Seas Havoc (GEN)
Castlevania: Bloodlines (GEN)
Sub-Terrania (GEN)
NBA Jam (GEN & SNES)
Tomcat Alley (SEGA-CD)
Total Eclipse (3DO)
Terraforming (TURBO)
X-Men (GAME GEAR)
Chip & Dale 2 (NES)
Stunt Race FX (SNES)
Fatal Fury 2 (GEN)
Tempest 2000 (JAGUAR)
MegaRace (3DO)